Re: Question signature
---
[ Follow Ups ] [ Post Followup ] [ Ukiyo-e Q & A ]
---
Posted by Alec W. (174.105.163.103) on July 29, 2020 at 05:36:17:
In Reply to: Question signature posted by EBG on July 24, 2020 at 12:41:26: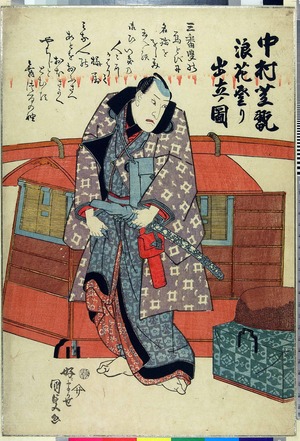 https://data.ukiyo-e.org/ritsumei/scaled/Ebi0206.jpg
Hi Emilio --
I assume you mean the 1833 print at Ritsumeikan ARC with the norimono in the background?
This signature looks to me to be 好ニまかせ国貞画. Based on some similar examples on Horst Graebner's Kunisada signature page, I read it as "konomi ni makase Kunisada ga". I believe the sense here is that of "leaving it all to someone else", though perhaps someone who actually knows Japanese should weigh in on that!
-A
---
---