Kabuki Script Artist Name
---
[ Follow Ups ] [ Post Followup ] [ Ukiyo-e Q & A ]
---
Posted by Darrel C. Karl (173.73.24.52) on August 05, 2020 at 01:27:19: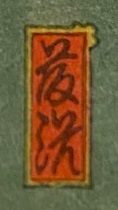 http://data.ukiyo-e.org/uploads/images/1ba6d89340c82e991d87f5695651d4ae.jpg
Woodblock printed pochibukuro are not usually signed, and if the artist was listed on the wrapper, the wrapper is often not kept, making identification of the artist difficult. Tonight, however, I found two woodblock printed postcards matching two pochibukuro from the same set in my collection, and the postcards were signed. Moreover, the signature matched one found on some miniature actor prints in my collection that I hadn't gotten around to cataloguing. I've attached the signature taken from one of such prints (because it was clearer than the ones on the postcards I have not yet purchased).
The Toshidama seal would suggest that it's an Utagawa school artist. The print it is on is from 1918, so there should only be a handful of Utagawa school artists left making actor prints at that time. The obvious choice would be Kunisada III under one of his various art names, but the characters look wrong. Any suggestions as to which artist it might be?


---
---