Unknown Meiji artist
---
[ Follow Ups ] [ Post Followup ] [ Ukiyo-e Q & A ]
---
Posted by Alec W. (174.105.163.103) on August 16, 2020 at 05:45:57: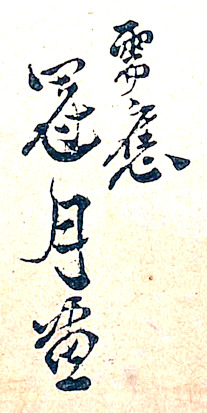 https://data.ukiyo-e.org/uploads/images/c0e01cd4f3468860d9057785960dbf96.jpg
Hi all --
I have a Meiji-era "famous places" type print bearing a signature I can't identify. The print is dated Meiji 32, and depicts Asakusa Kannon-ji. My thought is that the name given by the signature is 窓月 (Sōgetsu?), but I'm not at all certain of that first kanji.
I'm also puzzled as to the identity of the publisher, the name of which appears to be 中山仙三助 (Nakayama Sensansuke?). I haven't had any luck tracking it down by either name or by address (東京市浅草区神吉町拾壱番地).
A high-resolution scan of the print can be found here:
https://www.ukiyoesig.net/gallery/aw/053.jpg
Thanks in advance for any ideas!
-A


---
---