Re: Unknown Meiji artist
---
[ Follow Ups ] [ Post Followup ] [ Ukiyo-e Q & A ]
---
Posted by Alec W. (174.105.163.103) on August 17, 2020 at 04:35:20:
In Reply to: Re: Unknown Meiji artist posted by manuD on August 16, 2020 at 08:48:20: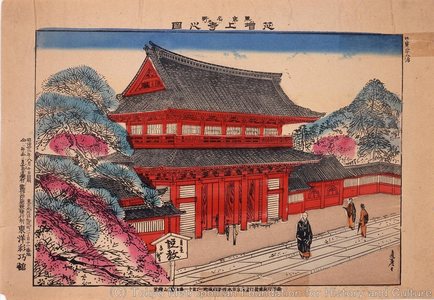 https://data.ukiyo-e.org/uploads/scaled/20cfe311b0f2ad042de699a2fc920f94.jpg
Thanks, manuD -- I agree, I like your transcription better. Unfortunately, I'm having no more luck connecting that name to an artist than my first guess!
With respect to the text of the colophon, unfortunately I think there's no artist information there. Here's my transcription:
明治三十二年三月七日印刷
同年今月十日発行
画作印刷
兼発行者
東京市浅草区神吉町拾壱番地
中山仙三助
I think that's just (1, 2) publication-related dates, (3, 4) a couple of stock phrases related to the publisher's activities, (5) the publisher's address, and (6) the publisher's name.
I've just come across another similar design in a similar style from the same year, but from a different publisher and bearing a different (unfamiliar) signature:
https://digitalmuseum.rekibun.or.jp/edohaku/app/collection/detail?id=0112000517
I guess there was a short-lived "micro-genre" of such prints being issued by artists not closely connected ukiyo-e?
-A


---
---