Re: Help identifying the artist/sign
---
[ Follow Ups ] [ Post Followup ] [ Ukiyo-e Q & A ]
---
Posted by Hans Olof Johansson (83.252.64.52) on September 03, 2020 at 23:27:37:
In Reply to: Re: Help identifying the artist/sign posted by David K on September 02, 2020 at 16:04:16: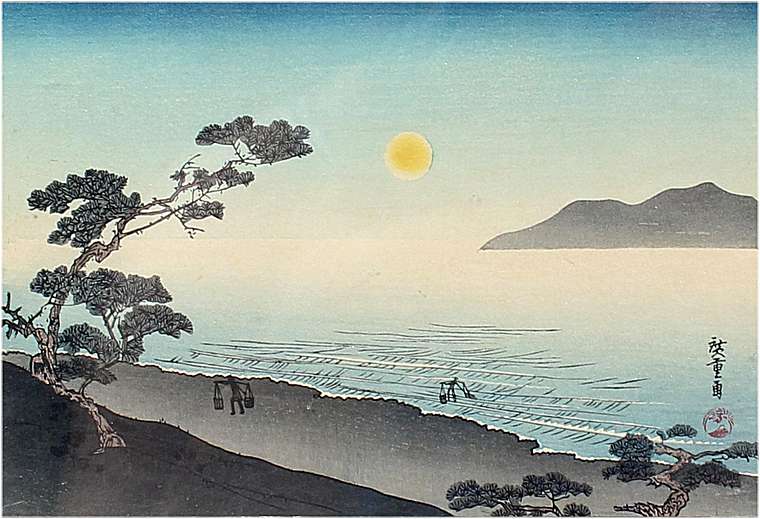 https://data.ukiyo-e.org/uploads/images/e94fde297fe822f3150cf5a6f87ef9cb.jpg
David,
Interesting that you mention Shima Art Co. They may have published at least three different versions of the Suma Beach design in the 1930s or thereabouts. Above is one in a horizontal format (yoko-e) with another variant of Hiroshige's signature in the lower right corner together with the Shima seal. There's also a version with the same combination of signature and seal in the lower left corner that is displayed in Marc Kahn's Shotei site (http://shotei.com/publishers/shima/catalog/shimadetailhiroshige03_en.htm), but Marc seems to agree that the original design was made by Yoshimune and not by Hiroshige.
In John Resig's database there are almost 30 copies of the Suma Beach design (https://ukiyo-e.org/upload/36ec8dab331cb009e98d374ff4e6c631). Though some of them carry Hiroshige's signature, I haven't found one with censors' seals, publisher's marks or date seals that were used during Hiroshige's life.
Consequently the existence of an original design by Hiroshige seems very unlikely, but I'm sure that any further research you can do would be much appreciated.
Best regards,
Hans Olof
---
---