Secondary signature on Kunichika print
---
[ Follow Ups ] [ Post Followup ] [ Ukiyo-e Q & A ]
---
Posted by Alec W. (174.105.163.103) on September 25, 2020 at 18:19:46: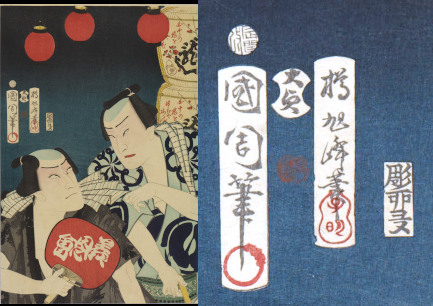 https://data.ukiyo-e.org/uploads/images/77de6616fe35926e2d1a1ba216476b57.jpg
Does anyone know what to make of the smaller "secondary" signature to the right of Kunichika's on this print? The date seal appears to me to be for 1868, 4th month (intercalary).
I haven't made out all the kanji, but it looks to me like "x旭x筆", with seal perhaps "子明"?
Waseda lists the actors as Sawamura Tosshō II and Ichikawa Kuzō III, but no other information.
https://archive.waseda.jp/archive/detail.html?arg={%22subDB_id%22:%2252%22,%22id%22:%22173469;1%22}&lang=en
Thanks!
-A


---
---