Re: help with Kunimasa IV (Kunisada III)
---
[ Follow Ups ] [ Post Followup ] [ Ukiyo-e Q & A ]
---
Posted by Alec W. (174.105.163.103) on September 29, 2020 at 23:46:23:
In Reply to: help with Kunimasa IV (Kunisada III) posted by Rick Wilk on September 29, 2020 at 22:02:22: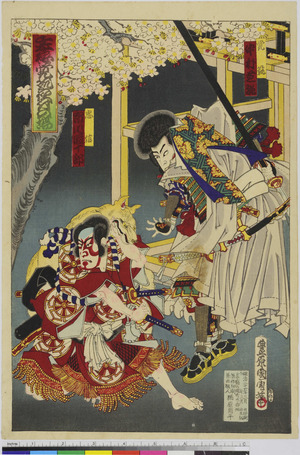 https://data.ukiyo-e.org/ritsumei/scaled/arcUP4206.jpg
I believe it's Nakamura Shikan IV as Yokawa Kakuhan. The role name is usually spelled "横川覚範" but is given here as 横川学範 (横川學範).
The publication date is Meiji 21 (1888), 2nd month, 18th day (also 20th day of same month).
I suppose it must go with the same performance of Yoshitsune Senbon Zakura as this Kunichika print:
https://www.dh-jac.net/db/nishikie/arcUP4206/default/
-A


---
---