Re: print identification
---
[ Follow Ups ] [ Post Followup ] [ Ukiyo-e Q & A ]
---
Posted by Alec W. (73.68.252.56) on October 11, 2020 at 20:13:12:
In Reply to: print identification posted by will on October 11, 2020 at 00:29:43: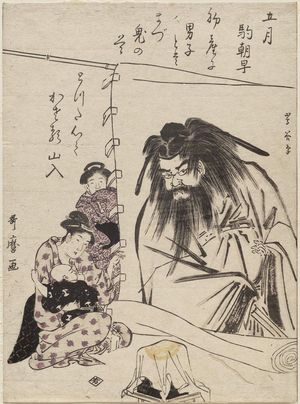 https://data.ukiyo-e.org/mfa/scaled/sc214475.jpg
The signature reads "Utamaro ga" 歌麿画, and the publisher seal belongs to Wakasaya Yoichi 若狭屋与市. Marks lists an Utamaro series from this publisher under the entry "Untitled series of customs of the Twelve Months, with comic poems" (c. 1790-91) that I'm guessing this design may belong to.
MFA Boston has two designs from this series, for the first and fifth months:
https://collections.mfa.org/objects/255976
https://collections.mfa.org/objects/234187
The text on your print begins with "八月" ("hachigatsu"), which means the eighth month.
Utamaro designs have been much reprinted, so I would tend to assume this to be a reprint as well, but I couldn't say that with confidence.
-A


---
---