Re: please help to ID this woodblock pri
---
[ Follow Ups ] [ Post Followup ] [ Ukiyo-e Q & A ]
---
Posted by Hans Olof Johansson (83.252.64.52) on November 16, 2020 at 23:32:11:
In Reply to: please help to ID this woodblock print posted by Gong on November 16, 2020 at 01:36:26: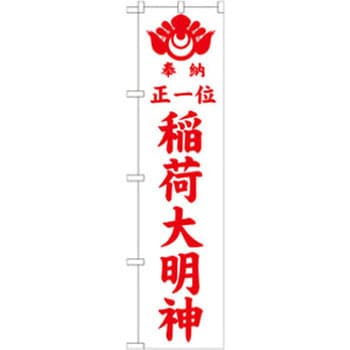 https://jp.images-monotaro.com/Monotaro3/pi/full/mono31452216-160927-02.jpg
As far I can see there are no clues to the identity of the artist or the publisher.Probably it's a sheet from a triptych, and I believe it was produced in the second half of the 19th century.
It appears to be a scene from a street in Tokyo or perhaps the precinct of a shrine, where people are gathering for some festival. The text on the two large nobori banners seems to be "正一位稲荷大明神", referring to the Dai My˘jin (大明神) shrine. Very similar banners can still be purchased today (see above).
Best regards,
Hans Olof
---
---