Utamaro - Uki-e
---
[ Follow Ups ] [ Post Followup ] [ Ukiyo-e Q & A ]
---
Posted by Guy Pepermans (84.197.53.216) on November 17, 2020 at 11:38:59: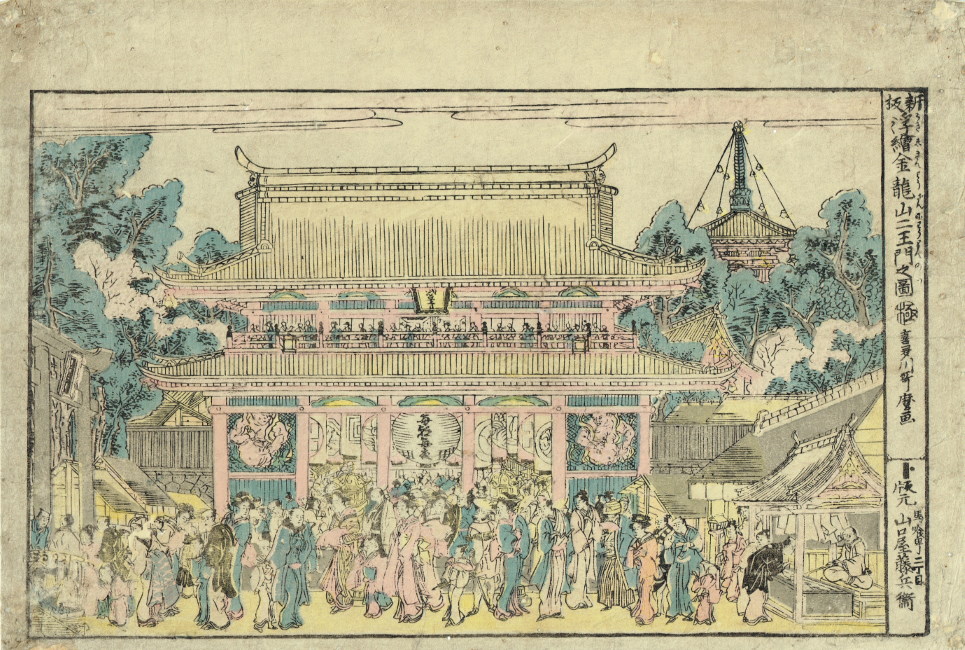 https://data.ukiyo-e.org/uploads/images/ca06410a35bba7a1c3562db472c881cb.jpg
An uki-e (perspective print) signed Kitagawa Utamaro ga, titled 'Shinpan Uki-e Kinryűzan Ni˘mon no zu' (新版浮絵金龍山二王門之図 - Newly-published perspective picture, Ni˘mon gate at Kinryűzan temple), published by Yamaguchiya T˘bei.
MRAH Brussels attributes the print to Utamaro II but the same print is attributed to Utamaro I in the Ritsumeikan database.
Yamaguchiya T˘bei started his business early Bunka (ca. 1804-1806) and commissioned both Utamaro I and II.
I tend to think that this print was indeed designed by Utamaro II during the 1810s. What's your opinion?
https://carmentis.kmkg-mrah.be/eMP/eMuseumPlus?service=ExternalInterface&module=collection&lang=fr&objectId=148003
https://www.dh-jac.net/db/nishikie/MRAH-JP.00034/belgium/
Guy.



---
---