Re: Help with artist signature
---
[ Follow Ups ] [ Post Followup ] [ Ukiyo-e Q & A ]
---
Posted by Hans Olof Johansson (83.252.64.52) on December 03, 2020 at 11:48:31:
In Reply to: Re: Help with artist signature posted by Amy W on December 03, 2020 at 02:00:21: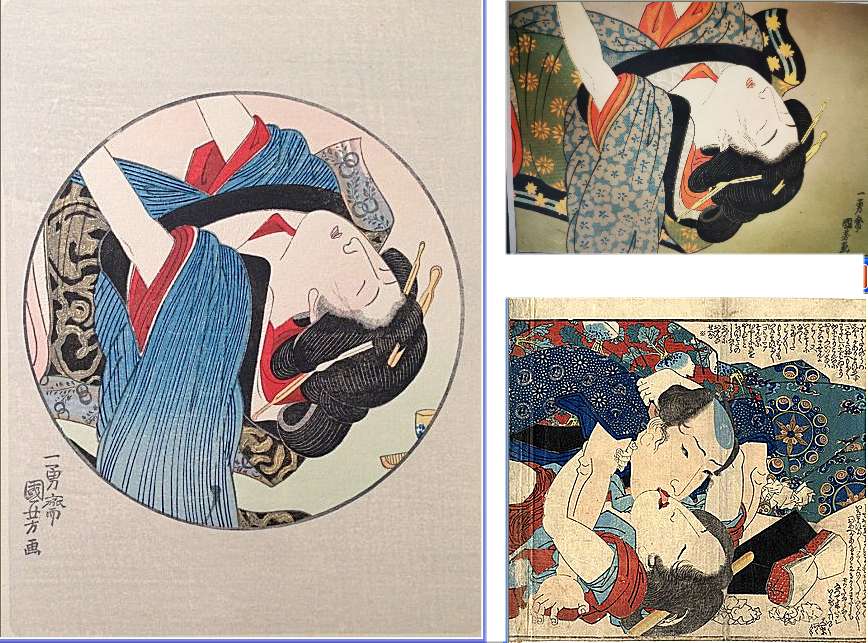 https://data.ukiyo-e.org/uploads/images/1db2702f61c90626b689089edbfa6b26.jpg
Amy,
You can't fool Alec, even by turning the image upside down. :-)
Your image probably shows only a part of the entire print and only one of the two persons involved. As indicated by her closed eyes and the position of her head, it is an erotic print ("shunga"). The lower right image in the collage above may give you an idea of what the complete design could have looked like. However, the existence of the print to the left suggests that your print could be a similar design, depicting only the woman.
Anyway, all these three prints were designed by Kuniyoshi and probably published in the 1840s.
Best regards,
Hans Olof



---
---