Unknown Artist: Shusai?
---
[ Follow Ups ] [ Post Followup ] [ Ukiyo-e Q & A ]
---
Posted by Alec W. (174.105.163.103) on December 03, 2020 at 15:14:41: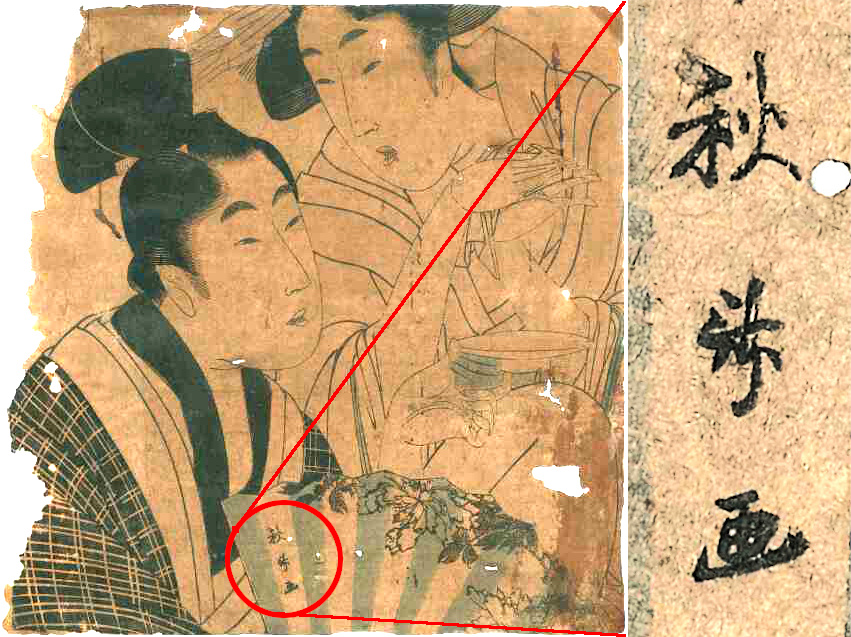 https://data.ukiyo-e.org/uploads/images/a35698f8ebbba0d1a1dd9d43fc53c996.jpg
Hi all --
I've recently acquired a tattered fragment of a print bearing a signature that I read as "Shūsai ga" 秋斎画. I see that Roberts includes a stub entry for an ukiyo-e artist signing with these kanji, but I can find no other reference to such an artist.
Stylistically, I would guess that the design dates from c. 1790-1820, as it looks to me to be in the vein of Utamaro and Eizan, but I have been unable to discern anything else... anyone have any ideas?
Full scan here:
https://www.ukiyoesig.net/gallery/aw/060.jpg
Thanks!
-A


---
---