Re: Unidentified print
---
[ Follow Ups ] [ Post Followup ] [ Ukiyo-e Q & A ]
---
Posted by Alec W. (174.105.163.103) on December 08, 2020 at 05:17:36:
In Reply to: Unidentified print posted by Shiro on December 07, 2020 at 22:28:42: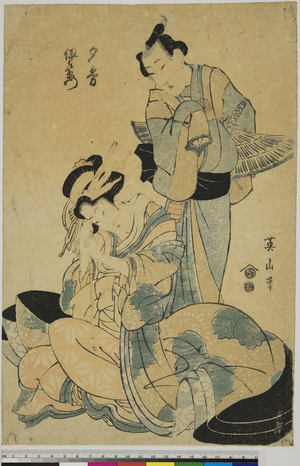 https://data.ukiyo-e.org/uploads/scaled/26ce07ca18968b8c64d03b2e08348b8d.jpg
This looks to be a reprint of a theatrical design by Kikukawa Eizan 菊川英山. The original design included some text naming the characters as Yūgiri夕霧 and Izaemon 伊左衛門, but the actors are not identified. Original publisher Nishimuraya Yohachi.
https://www.dh-jac.net/db/nishikie/arcUP7834/portal/
-A


---
---