Toyokuni print of Tairo no Tomomori?
---
[ Follow Ups ] [ Post Followup ] [ Ukiyo-e Q & A ]
---
Posted by Mark Mascolini (24.229.255.208) on December 20, 2020 at 12:53:48: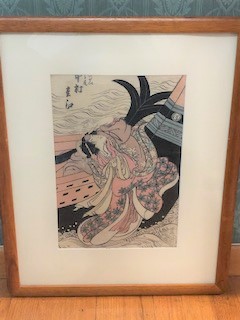 https://data.ukiyo-e.org/uploads/images/b565103d9fc3b2bcdffde06414b13b3f.jpg
Under the direction of the curatorial staff at the Allentown Art Museum (https://www.allentownartmuseum.org/), I am trying to identify several Japanese woodblock prints that a donor may offer to the museum.
I have attached a photograph of one print I have not been able to identify. Any help in identifying this print would be appreciated, specifically:
Can anyone identify the artist or this specific print?
A label on the back of the print says "Toyokuni c 1800." But I cannot find this print among the works of Toyokuni I, Toyokuni II, or Toyokuni III.
Does this print depict Tairo no Tomomori throwing himself into the sea tied to an anchor in the play "Yoshitsune's Thousand Cherry Trees"?
Can anyone decipher any script or identifying marks on print?
Can anyone offer other suggestions that might help identify this print?



---
---