Different versions of Sino-Japanese war
---
[ Follow Ups ] [ Post Followup ] [ Ukiyo-e Q & A ]
---
Posted by Mark Mascolini (24.229.255.208) on December 23, 2020 at 14:07:43: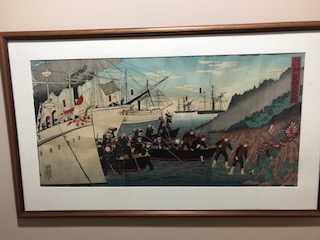 https://data.ukiyo-e.org/uploads/images/14a8f0b197c81db872ac0a5cb6e50e40.jpg
I am trying to identify several Japanese woodblock prints that a donor may offer to the Allentown Art Museum (https://www.allentownartmuseum.org/).
I have attached a photograph of one Sino-Japanese War print that I have not been able to identify satisfactorily. The left and center sheets of the donor's triptych match those of a triptych online in a British Library collection: https://commons.wikimedia.org/wiki/File:16126.d.1(19)-The_Japanese_naval_attack_on_Weihaiwei.jpg or https://www.jacar.go.jp/english/jacarbl-fsjwar-e/gallery/gallery001.html (scroll down to shelfmark 16126.d.1(19); titled "The Japanese naval attack on Weihaiwei" or "Japanese Fleet Weihai Attack Nozu.")
The right sheet differs completely between the two triptychs. The more dramatic right sheet of the British Library triptych does not line up entirely correctly with the middle sheet (note discontinuous clouds at the line between the sheets and the sudden change in water color from white to green below the distant ships). These inconsistencies do not appear in the donor's print.
Online I can find many copies of the British Library version of the triptych, but the artist is never identified. I can find one unidentified black and white copy of only the right two sheets of the donor's triptych at a Chinese news site: https://himg2.huanqiu.com/attachment2010/2012/0913/20120913031556459.jpg
Any help in identifying this print would be appreciated, specifically:
Does anyone know the artist of the donor's print or the British Library print?
Does anyone know the location of other copies of the donor's print?
Do you agree that the right sheet of the donor's print more faithfully matches the middle sheet?



---
---