Re: Triptych: 4 woman in a boat under a
---
[ Follow Ups ] [ Post Followup ] [ Ukiyo-e Q & A ]
---
Posted by Alec W. (174.105.163.103) on December 31, 2020 at 02:45:50:
In Reply to: Triptych: 4 woman in a boat under a cher posted by Kim Naru on December 30, 2020 at 21:11:51: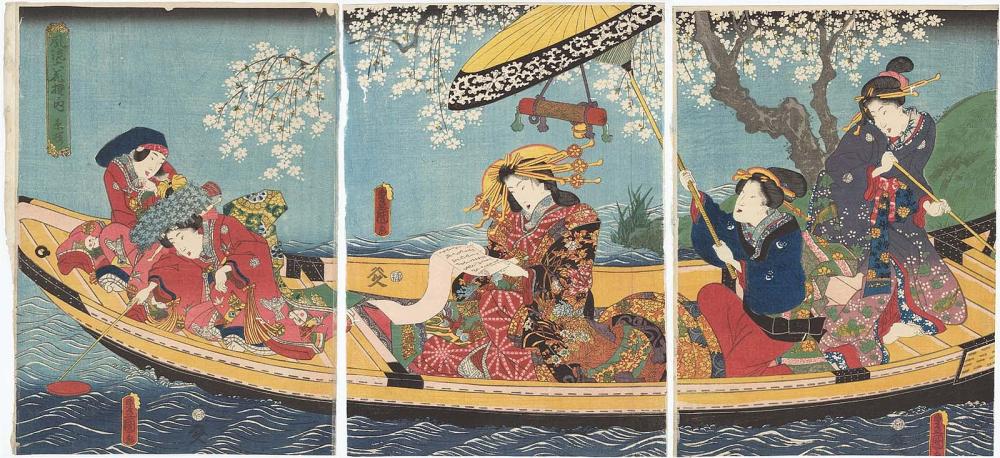 https://data.ukiyo-e.org/uploads/images/31fdb98e553dbcfa4533644e14592c08.jpg
It's by Kunisada, a.k.a. Toyokuni III. The series is entitled "Fūryū rokkasen no uchi" 風流六花撰ノ内 ("Six Fashionable Floral Selections"), and this design is "Itozakura" 糸桜 ("Weeping Cherry").
The series was published by Yamamotoya Heikichi 山本屋平吉. Depending on the source you consult, the series was originally published anywhere from the early 1830s to about 1840.
But what's interesting is that Kunisada didn't start signing as "Toyokuni" until 1844. The censor seal is of a type that stopped being used in 1842, so there's definitely a mismatch of some sort. My guess is that this is a somewhat later edition, and the publisher had the blocks modified to replace the outdated "Kunisada" signatures with up-to-date "Toyokuni" ones. But perhaps there is another explanation, and I haven't found an impression of this particular design with "Kunisada" signatures.
MFA Boston has an impression:
https://collections.mfa.org/objects/506697
as does the National Diet Library:
https://dl.ndl.go.jp/info:ndljp/pid/1307584
-A


---
---