Mystery seal on Hiroshige print
---
[ Follow Ups ] [ Post Followup ] [ Ukiyo-e Q & A ]
---
Posted by John Lord (101.186.168.21) on January 15, 2021 at 00:15:33: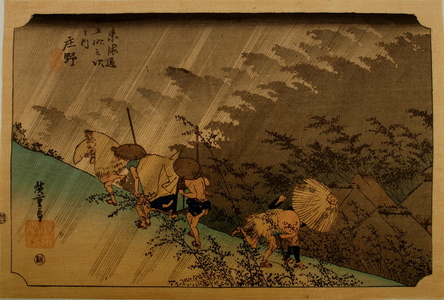 https://data.ukiyo-e.org/uploads/scaled/0e1ad20dbe2bef9241c957d4ed2a9dd9.jpg
Have recently acquired a copy of Hiroshige's "Sudden Show at Shona" which may be an early edition - it is printed on a greyish paper and the umbrellas are white rather than yellow - Christie's and Sotheby's have both sold copies on similar looking paper. Any comments appreciated.
However, main point is that this copy has what appears to be a collector's seal. Can anyone identify it?
Many thanks in anticipation



---
---