Re: Assistance identifying?
---
[ Follow Ups ] [ Post Followup ] [ Ukiyo-e Q & A ]
---
Posted by Alec W. (174.105.163.103) on January 19, 2021 at 05:31:46:
In Reply to: Assistance identifying? posted by DavidK on January 18, 2021 at 18:32:25: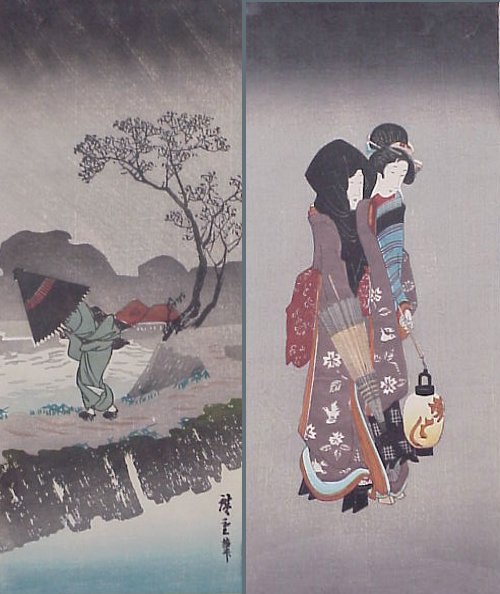 https://data.ukiyo-e.org/uploads/images/19f780a6583cada4f9a5a4ce241a2c31.jpg
Not really an answer, but a possible clue...
I've found, in an online auction catalog, another impression of this design bearing a "Hiroshige" signature:
http://www.burchardgalleries.com/auctions/2002/dec1502/l039a.jpg
The auction house unfortunately has no useful information.
My guess is that this is an early 20th-century production, so I can think of three possibilities here:
1) this is an original artwork by Hiroshige IV, aka Kiichirō Kikuchi, or
2) this is an adaptation by a 20th-century artist of an old Hiroshige I design, or
3) this is on original design by a shin-hanga artist other than Hiroshige IV, and a publisher merely saw fit to slap a Hiroshige signature on it in an effort to sell more prints
I also found another image of this design, like yours without a signature, in a listing from an online auction:
https://page.auctions.yahoo.co.jp/jp/auction/x745161438
This one is paired with a Hiroshige IV design, so #1 above doesn't seem unrealistic to me...
-A


---
---