Re: Identification request
---
[ Follow Ups ] [ Post Followup ] [ Ukiyo-e Q & A ]
---
Posted by Alec W. (174.105.163.103) on January 26, 2021 at 05:17:31:
In Reply to: Identification request posted by Moira Hahn on January 24, 2021 at 20:22:03: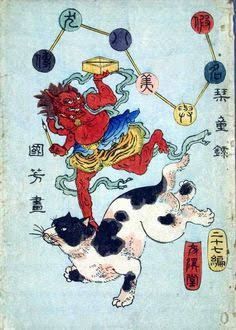 https://data.ukiyo-e.org/uploads/images/0fecf3fb3a29950a0c8363a9a5de5e2d.jpg
This appears to be from a 1927 multi-volume set called "Sōshi mon'yōshū" 草紙文様集, which, from what I can tell, reproduces covers and/or title pages from Edo-era illustrated books. Here's an impression:
https://www.wul.waseda.ac.jp/kotenseki/html/bunko10/bunko10_08669/index.html
This particular image bears a signature, of a sort, of Utagawa Kuniyoshi, here signing "Kuniyoshi ga" 国芳画[國芳畫] ("Drawn by Kuniyoshi").
I haven't identified what book this image comes from, but I have spotted an image online that I take to be the original version of this design, see attached. Most of the text is in archaic "seal script", which makes things especially hard go read. The red cartouche probably contains the name of the publisher (ends in "-dō" 堂), the yellow the volume number (27), and the other text possibly the book's author? (琴童?)
Finally, I have no idea what the imagery is supposed to represent.
Wish I could tell you more -- it's an interesting piece for sure!
-A


---
---