Re: And another unidentified image from
---
[ Follow Ups ] [ Post Followup ] [ Ukiyo-e Q & A ]
---
Posted by Alec W. (174.105.163.103) on January 31, 2021 at 06:38:21:
In Reply to: And another unidentified image from a bo posted by Rick Wilk on January 30, 2021 at 22:45:15: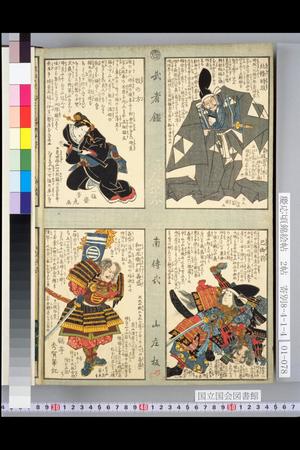 https://data.ukiyo-e.org/uploads/scaled/989a22225b77060cb0165331d2dad150.jpg
This is a quarter-sheet from an 1859 Yoshitora series called "Musha kagami" ("Mirror of Warriors"), written variously as 武者鑑, 武者かゞみ, and 武者かゞ美.
The National Diet Library has 24 designs from this series -- I do not know if that is the full series or not:
https://dl.ndl.go.jp/info:ndljp/pid/1312412
NDL actually gives the full title as "武者鑑 一名人相合 南伝二", but I don't know the proper reading or meaning of the latter part of that.
Also, it looks like NDL's impression of this series was bound together with an assortment of other prints... it is an interesting little album!
-A


---
---