Re: Unidentified woodblock print by Yosh
---
[ Follow Ups ] [ Post Followup ] [ Ukiyo-e Q & A ]
---
Posted by Alec W. (174.105.163.103) on January 31, 2021 at 16:15:15:
In Reply to: Unidentified woodblock print by Yoshi Um posted by Michael Graham on January 31, 2021 at 12:51:28: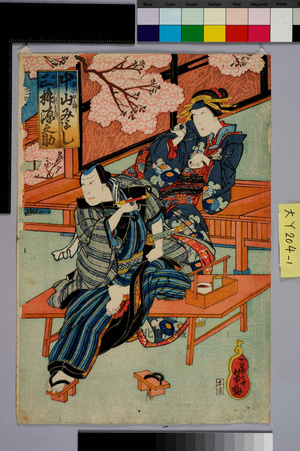 https://data.ukiyo-e.org/uploads/scaled/e8e496738dd624424ac1162fdc839be2.jpg
Yes, the artist is Osaka-based Utagawa Yoshiume, here signing "Ichiōsai Yoshiume" 一鶯斎 芳梅.
The design depicts the actors Mimasu Gennosuke 三枡源之助 and Nakayama Miyoshi 中山みよし in an 1842 production of "Azuma namari koi no Fukagawa" 東訛恋深川.
There is an impression of this cataloged by Hankyu Culture Foundation:
http://www.hankyu-bunka.or.jp/archive/?app=shiryo&mode=detail&data_id=202197
I'm thinking this was probably part of a multi-sheet composition, but I don't have any confirmation for that.
-A


---
---