Re: Actors Names
---
[ Follow Ups ] [ Post Followup ] [ Ukiyo-e Q & A ]
---
Posted by Horst Graebner (188.107.37.19) on February 13, 2021 at 18:34:34:
In Reply to: Re: Actors Names posted by Guy Pepermans on February 13, 2021 at 16:23:15: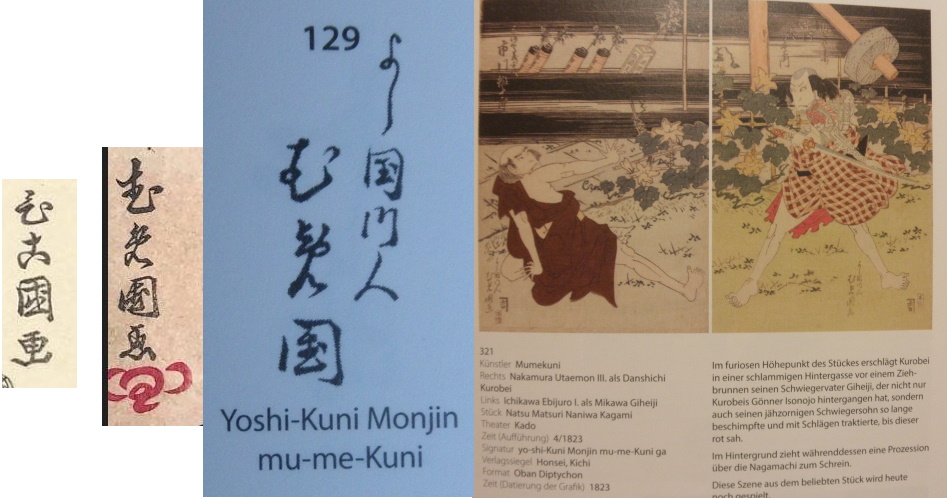 https://data.ukiyo-e.org/uploads/images/8342dae21ee9903362d5ec166321898c.jpg
Dear Guy,
nice discussion on Saturday evening; Because of Corona, we have nothing else to do anyway. :-)
The signature on the left is from https://collections.mfa.org/objects/455915/actor-bando-mitsugoro-iii-as-a-shirabyoshi-dancer?ctx=c2d96697-2393-4ad6-909e-a5fb86d43766&idx=9 or from https://www.dh-jac.net/db/nishikie/results-big.php?f1=Z0172-717&f11=1&enter=default. DHC reads the signature as "ひこ国画" and that is certainly correct.
The signature in the middle is that of the currently requested print: it is different. The first "letter" looks similar, but I think it's a "む" and not a "ひ". And the second "letter" is a kanji, not a hiragana.
In Hendrik Lühl's "Treasures of the Kamigata", entry 129, page 279, I found the right signature (the corresponding print is shown on page 151. Mr. Lühl gives the reading as "Yoshi Kuni Monjin mu-me Kuni".
This reading can also be found on Noel Chiappa's page "Japanese Woodblock Print Artists' Names", on which Noel, according to James Self's and Nobuko Hirose's "Japanese Art Signatures: A Handbook and Practical Guide" (Charles E. Tuttle, Rutland and Tokyo, 1987) lists the spelling of the various woodblock artists in kanji.
(Because of a word in the internet address that is on the blacklist, a direct link is not possible, but simply search for "よし國 門人 む美國" on the Internet and you will immediately be taken to the right site.
Regarding the artist Mumekuni, Mr. Lühl notes that he is probably identical with Umekuni and that a total of three prints with the signature "Mumekuni" are known.



---
---