Re: Utagawa Kunitsuna Samurai identific
---
[ Follow Ups ] [ Post Followup ] [ Ukiyo-e Q & A ]
---
Posted by Alec W. (174.105.163.103) on February 14, 2021 at 22:23:54:
In Reply to: Utagawa Kunitsuna Samurai identificatio posted by crinkle on February 14, 2021 at 21:16:02: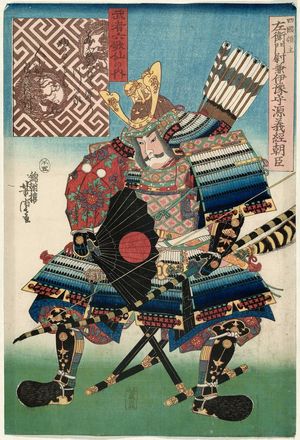 https://data.ukiyo-e.org/mfa/scaled/sc168353.jpg
Yes, I agree this must be Kunitsuna II, a.k.a. Kuniteru II. The publisher seal belongs to Daikokuya Heikichi 大黒屋平吉, and the date seal is for 1857, 6th month.
As per the identity of the depicted figure, I believe it is Minamoto no Yoshitsune -- compare, for example, with this Yoshitora print with quite similar iconography:
https://collections.mfa.org/objects/472393
-A


---
---