Re: Japanese print
---
[ Follow Ups ] [ Post Followup ] [ Ukiyo-e Q & A ]
---
Posted by Alec W. (174.105.163.103) on February 15, 2021 at 18:04:40:
In Reply to: Japanese print posted by Richard Webber on February 15, 2021 at 17:23:30: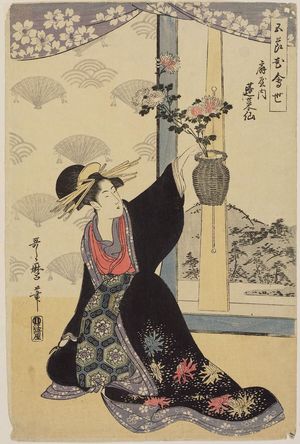 https://data.ukiyo-e.org/mfa/scaled/sc215234.jpg
It's an adaptation of some sort of a design from an Utamaro series entitled "Gosetsu no hana awase" 五節花合せ ("Flowers for the Five Festivals").
This series seems to have gone through a number of editions with two different publishers... the original was designed as a pentaptych, but a later version dropped the continuous background and added inset images.
MFA Boston has four prints from various iterations of the series:
https://collections.mfa.org/search/objects/*/%E4%BA%94%E7%AF%80%E8%8A%B1%E5%90%88%E3%81%9B
I take the adaptation to be a 20th-century production.
-A


---
---