Re: Help identifying
---
[ Follow Ups ] [ Post Followup ] [ Ukiyo-e Q & A ]
---
Posted by Thank you! (216.25.245.39) on February 18, 2021 at 18:31:34:
In Reply to: Re: Help identifying posted by Alec W. on February 18, 2021 at 01:12:25: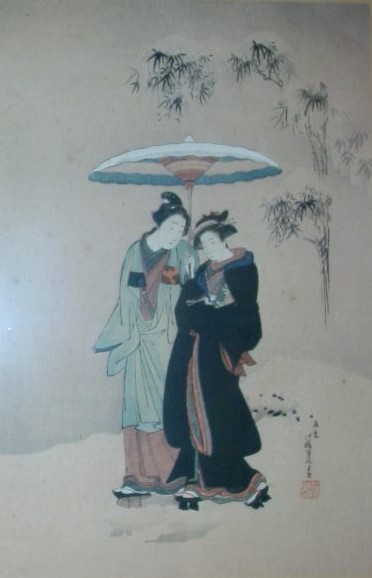 https://data.ukiyo-e.org/uploads/images/0a7b03bebb33aa284045ab7f2162385b.jpg
That was a great help. I think you are right about the artist and I'll pursue this over at the Asian Arts Forum . . .is this link to the forum you mean -
http://www.asianart.com/phpforum/index.php
I did inherit some other prints I thought they were Chinese but a reverse image search on one seems to identify one as being a print or reproduction of
" Men and Women Walking in the Snow By Koryusai Isoda" which is from the Ukiyoye School. I've attached a photo of the print.
Which brings me to the question - how does one confirm if a print is a modern reproduction of the print (or not, I suppose)? I wasn't sure if modern prints were made but I suspect that would be the case as with all classical art. Thank you.


---
---