Re: Identification and datation painting
---
[ Follow Ups ] [ Post Followup ] [ Ukiyo-e Q & A ]
---
Posted by Alec W. (174.105.163.103) on February 24, 2021 at 22:55:08:
In Reply to: Identification and datation painting/pri posted by Dubar Manu on February 24, 2021 at 21:19:32: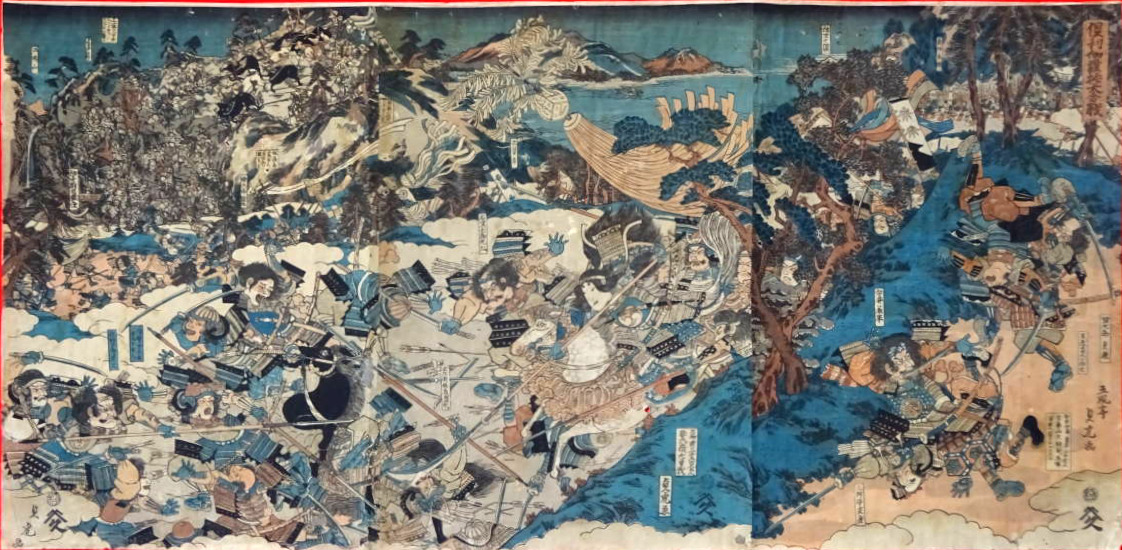 https://data.ukiyo-e.org/uploads/images/2a9cbd72f2c34c9ab52a6b28b101d15d.jpg
It's the left sheet of a triptych design by Utagawa Sadatora 歌川貞虎.
I haven't located an impression of this, but I did find an image of the full triptych from a defunct online auction listing, see attached.
The title is given as 「倶利伽羅峠大合戦」-- read, I think, as "Kurikara tōge daigassen" ("Great Battle at Kurikara Pass").
The publisher seal belongs to Yamamotoya Heikichi 山本屋平吉.
Better view of the right sheet, with the title, here:
https://img.aucfree.com/s694777953.3.jpg
-A


---
---