Re: UTAGAWA YOSHIKAZU Woman and Dog prin
---
[ Follow Ups ] [ Post Followup ] [ Ukiyo-e Q & A ]
---
Posted by Alec W. (174.105.163.103) on March 13, 2021 at 20:39:47:
In Reply to: UTAGAWA YOSHIKAZU Woman and Dog print ID posted by Laurie Barnes on March 13, 2021 at 18:40:26: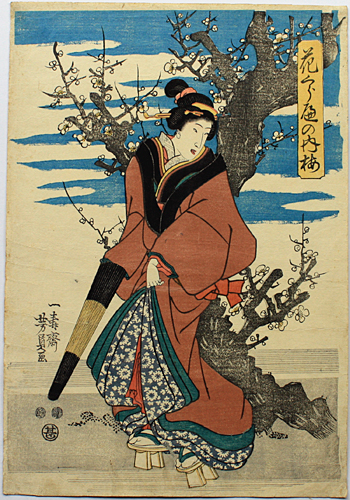 https://data.ukiyo-e.org/uploads/images/040ce0ae8b9016c1cce53a8d184a4369.jpg
This design comes from a Yoshikazu series entitled "Hana kurabe no uchi" 花くらべの内 ("Comparison of Flowers"). This design is 紫陽, short for 紫陽花 "ajisai" ("hydrangea").
The publisher, as indicated by VGM, was Maruya Jinpachi 丸屋甚八.
I haven't found any substantive documentation on this series, but the presence of the twin nanushi censor seals dates the print to late 1846 to early 1852. I believe the seals are specifically "Mera" and "Murata", the combination of which Marks lists as being used from 1847 to 1850.
I've found an image of only one other design from the series, "Ume" 梅 ("Plum"):
http://morimiya.net/online/ukiyoe-syousai/U547.html
Hope this helps,
-A


---
---