Help with colophon
---
[ Follow Ups ] [ Post Followup ] [ Ukiyo-e Q & A ]
---
Posted by Alec W. (174.105.163.103) on March 14, 2021 at 16:42:52: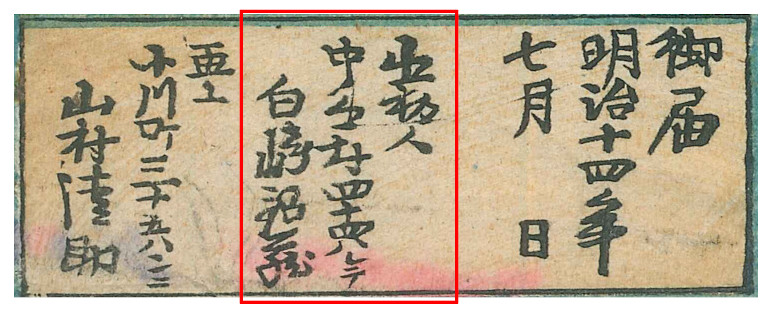 https://data.ukiyo-e.org/uploads/images/68bfa2b4c6241a7b7434a1c24f16fe25.jpg
I have a Meiji print with a hard-to-read colophon that I'm hoping someone can help with...
The print seems to be some sort of inexpensive souvenir depicting the emperor and empress, clearly based on the famous 1872 portrait photos by Uchida Kuichi. The right side of the colophon indicates publication in Meiji 14, 7th month, and the left gives the artist name and address for the print designer Kunitoshi. But the middle, which I take to be publisher identity, I am unable to decipher.
Here's what I have so far:
Right: 御届  明治十四年七月
Center: 出囗人 中[之?][本?]四十四バン[チ] 白[崎?]囗囗
Left: 画工  小川町三十五バン[チ] 山村清助
The heading for this section seems like it ought to be "shuppanjin" 出板人, but the middle kanji doesn't seem right. The address appears to contain "44-banchi", but I can't read the name of the district. And what is the name of the publisher??
The full print can be seen here:
https://www.ukiyoesig.net/gallery/aw/062.html
Thanks in advance for any ideas!
-A


---
---