Re: Woodcut fish
---
[ Follow Ups ] [ Post Followup ] [ Ukiyo-e Q & A ]
---
Posted by Alec W. (174.105.163.103) on March 26, 2021 at 22:57:00:
In Reply to: Woodcut fish posted by Nikita on March 26, 2021 at 22:28:35: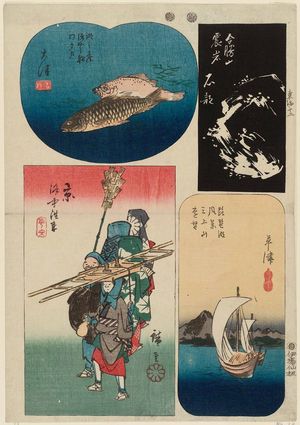 https://data.ukiyo-e.org/mfa/scaled/sc133277.jpg
It's from a design from a harimaze Tōkaidō Road series by Hiroshige. This design is Ōtsu 大津, which is what the text that looks like a signature says.
MFA Boston has an uncut impression:
https://collections.mfa.org/objects/209809
I would presume yours to be a reproduction -- it appears to have been printed without the neighboring designs or censor seals.
-A


---
---