Re: toba-e Hanzan?
---
[ Follow Ups ] [ Post Followup ] [ Ukiyo-e Q & A ]
---
Posted by Alec W. (174.105.163.103) on March 27, 2021 at 18:55:36:
In Reply to: toba-e Hanzan? posted by LatestarPF on March 27, 2021 at 18:07:34: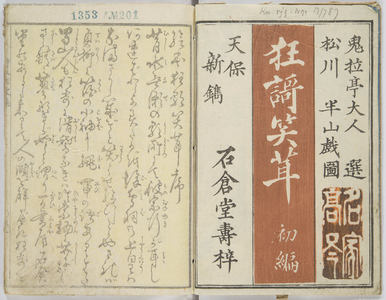 https://data.ukiyo-e.org/uploads/scaled/d3fc73053682c2234413b39defa3ad2b.jpg
They are pages from "Ehon kyōka waraidake" 絵本狂歌笑茸, illustrated by Matsukawa Hanzan. Here's a scan of the three parts of volume 1, published 1843:
https://www.arc.ritsumei.ac.jp/db1/books/results.php?f3=%E7%B5%B5%E6%9C%AC%E7%8B%82%E6%AD%8C%E7%AC%91%E8%8C%B8&enter=portal&lang=en
I'm not sure what to make of the page numbers on your impressions, which do not appear in the impression linked above. Perhaps they are from "Ehon jūrokushu" 絵本十六種, a four-volume publication collecting "reprints of 18th and 19th century Japanese picture-books." For more on that, see:
https://catalogue.nla.gov.au/Record/6613080
I haven't found any images from the latter publication, so I can't say for sure whether your pages are from it or from somewhere else.
-A


---
---