Re: pregnancy stages from Sonkochi H
---
[ Follow Ups ] [ Post Followup ] [ Ukiyo-e Q & A ]
---
Posted by Alec W. (174.105.163.103) on March 30, 2021 at 23:21:56:
In Reply to: Re: pregnancy stages from Sonkochi H posted by Jaime E. on March 30, 2021 at 15:49:26: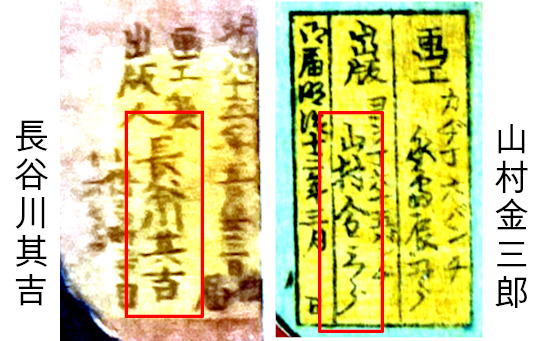 https://data.ukiyo-e.org/uploads/images/3d3c8864b9cccedd937016c2a36931fe.jpg
Sorry, I could have been a little clearer about things!
The colophon on the image you shared does indeed credit Hasegawa Sonokichi 長谷川其吉 as the publisher. But this colophon appears to be a clumsy plug -- notice how the text doesn't fit in the yellow box. There's a date on this colophon -- it's hard to make out, but I think it is Meiji 15 (1882).
The colophon on the other version (the one I take to be original) credits Yamamura Kinzaburō 山村金三郎, a name used by the publisher generally now known as Daikokuya Kinzaburō 大黒屋金三郎, as the publisher. This colophon credits Nagashima Tatsugorō 永島辰五郎 (Yoshitora's "legal name") as the artist. The date given in this colophon is Meiji 13 (1880).
Based on all this, I think Hasegawa Sonokichi bought the blocks from Daikokuya Kinzaburō and put out a new edition of the design. The dates put the Hasegawa Sonokichi version a couple of years after the Daikokuya Kinzaburō version, so I think the theory is at least plausible.
-A


---
---