Re: Need ID help
---
[ Follow Ups ] [ Post Followup ] [ Ukiyo-e Q & A ]
---
Posted by Alec W. (174.105.163.103) on April 11, 2021 at 17:44:59:
In Reply to: Need ID help posted by Ginger on April 10, 2021 at 23:26:44: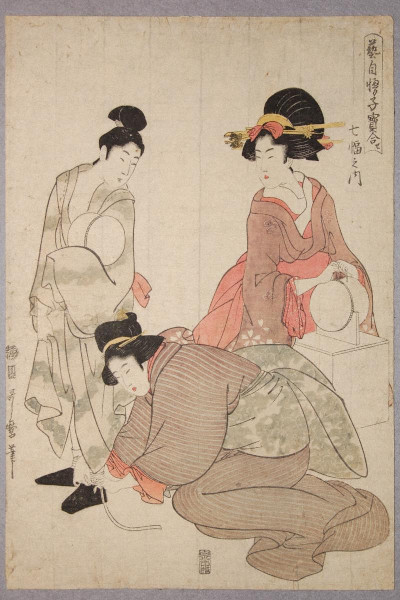 https://data.ukiyo-e.org/uploads/images/9649647c141ad61c882e9a99a231b25f.jpg
This is a reprint of a design from an Utamaro (or Utamaro II) series entitled "Gei jiman kodakara awase (shichi fuku no uchi)" 芸自慢子宝合せ 七福之内.
Here's an original:
https://www.dh-jac.net/db/nishikie/Adachiku-651./portal/
As an aside, there seems to be a bit of disagreement about the exact date and correct attribution of this series. The owner of the linked print gives 1805, 6th month -- this agrees with the date given in "Genshoku ukiyoe daihyakka jiten" for the date seal on the print. But Marks (2011) gives 1806, 4th month for that seal. And the series is documented in Marks as being by Utamaro, but the print owner gives Utamaro II. My understanding from other reading I've done is that correct attribution for prints signed "Utamaro" from this period (c. 1805-1806) is basically speculative. Utamaro I died in poor health some time in 1806, and it is unknown exactly when Utamaro II started to sign using the name.
-A


---
---