Re: Need ID help 2
---
[ Follow Ups ] [ Post Followup ] [ Ukiyo-e Q & A ]
---
Posted by Alec W. (174.105.163.103) on April 11, 2021 at 20:00:22:
In Reply to: Need ID help 2 posted by Ginger on April 10, 2021 at 23:29:31: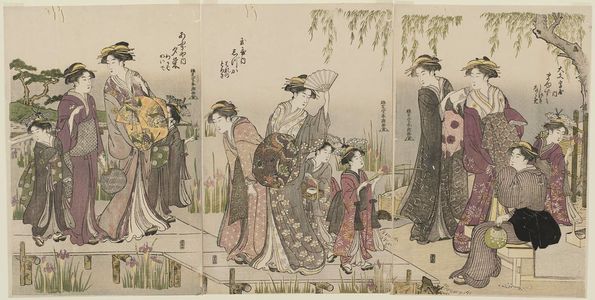 https://data.ukiyo-e.org/mfa/scaled/sc162500.jpg
The signature belongs to Katsukawa Shunchō 勝川春潮 (fl. c. 1783-1795), here signing "Shunchō ga" 春潮画.
But the design is puzzling. It is clearly a close cousin of the middle sheet of this Shunchō triptych:
https://collections.mfa.org/objects/489431
https://www.metmuseum.org/art/collection/search/51999
The figures on your print are individually identical to those from the triptych, but rearranged (and one removed). What I think is happening here is that a reprint publisher liked the original design, but wanted to create a single-sheet version. Since the original design had the figures looking or gesturing toward action on the other sheets, the design had to be "remixed" to be made more suitable as a stand-alone design.
The square seal at the bottom left is presumably the seal of a reprint publisher, but I have not identified it. The second kanji is 「原」, but I'm not sure what the first is.
-A


---
---