Re: artist and print date
---
[ Follow Ups ] [ Post Followup ] [ Ukiyo-e Q & A ]
---
Posted by Alec W. (174.105.163.103) on April 12, 2021 at 16:05:38:
In Reply to: artist and print date posted by Erik Wissing on April 12, 2021 at 13:22:03: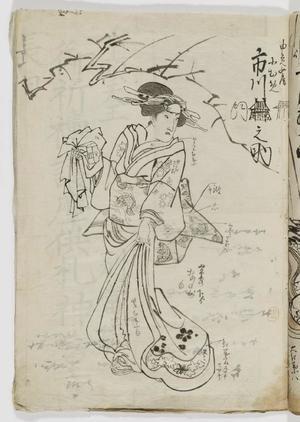 https://data.ukiyo-e.org/uploads/scaled/92f5c83d9f5fbfe4e86ed50cfddff53b.jpg
MFA Boston has a sketch of this design:
https://collections.mfa.org/objects/539511
Their attribution is a bit hard to understand -- they give "After Toyokuni III", but date the sketch to 1820. Other sketches in the album are dated to various years from 1816 to the early 1820s.
So MFA's object is either a misattributed preparatory sketch by Toyokuni I, or it is a Kunisada sketch of an existing Toyokuni I design... more research would definitely be needed to sort that out!
-A


---
---