Re: Woodcut
---
[ Follow Ups ] [ Post Followup ] [ Ukiyo-e Q & A ]
---
Posted by Alec W. (174.105.163.103) on April 18, 2021 at 17:41:08:
In Reply to: Woodcut posted by Nikita on April 18, 2021 at 14:24:26: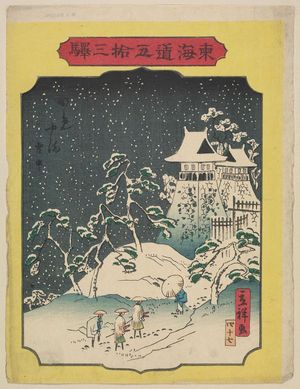 https://data.ukiyo-e.org/mfa/scaled/sc204816.jpg
Both Hiroshige II & III used the gō seen here, "Risshō" 立祥, but this is Hiroshige II.
The series is the 1865 "Tōkaidō gojūsan eki" 東海道五拾三驛, published by Maruya Tetsujirō 丸屋鉄次郎. This design is for Kameyama 亀山, here entitled "Kameyama setchū" かめやま 雪中 ("Kameyama in the snow").
Here is a page documenting this series:
http://www.hiroshigeii.net/series/TokaidoEki.html
As an aside, I notice that this design is quite similar to the Hiroshige I design for this station from the "Aritaya Tōkaidō":
https://www.hiroshige.org.uk/Tokaido_Versions/Tokaido_Versions_47.htm
-A


---
---