New clues, new questions
---
[ Follow Ups ] [ Post Followup ] [ Ukiyo-e Q & A ]
---
Posted by Alec W. (174.105.163.103) on April 22, 2021 at 04:03:07: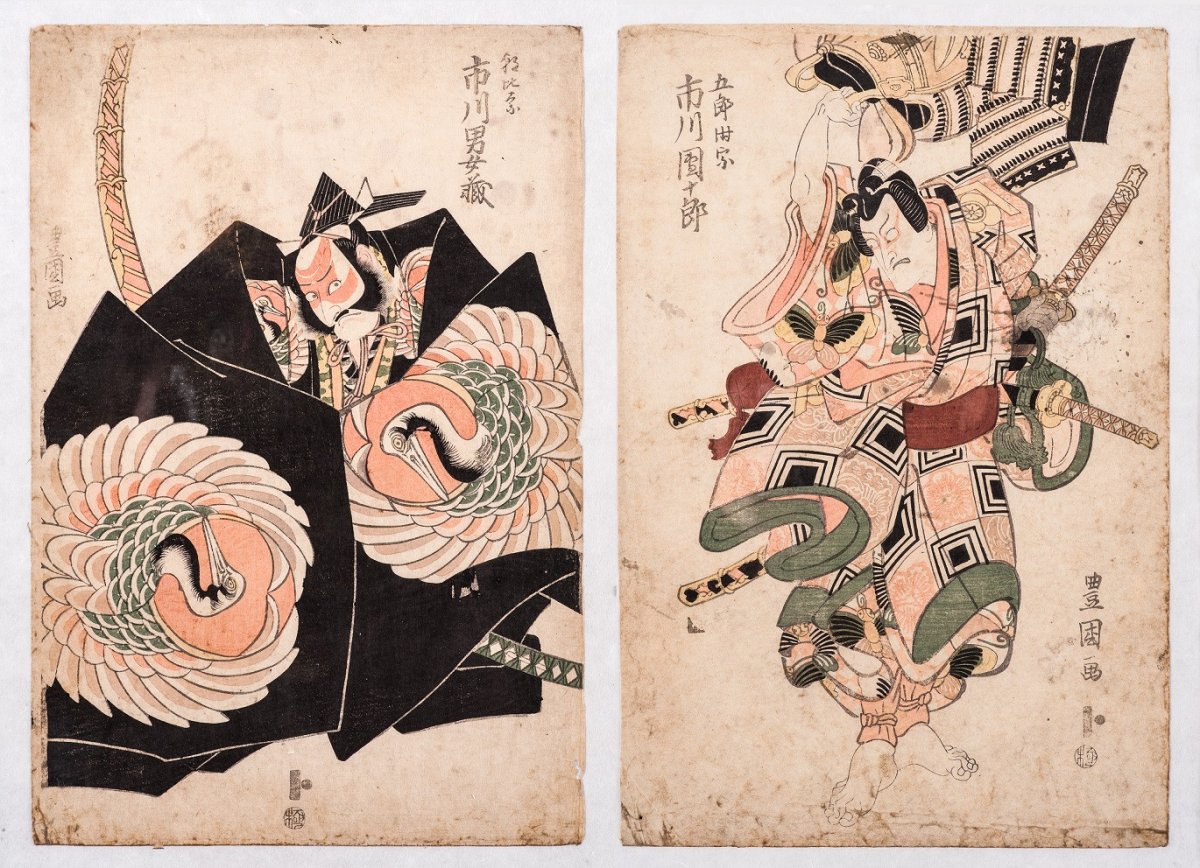 https://data.ukiyo-e.org/uploads/images/f1ad3d8cfdd17addb8a869122365e7b6.jpg
Back in May of 2019, I posted a question here about an unsigned print depicting Ichikawa Omezō as Kobayashi no Asahina. Horst helpfully pointed me to a surimono reproduced in Shindō Shigeru's "Kunisada: yakushae no sekai" and suggested my print might be a Kunisada design related to the same 1822.1 performance of Kongen Kusazuribiki.
But a few days ago I stumbled across a retail listing with another impression of my design, but less brutally trimmed. It bears a "Toyokuni" signature.
https://www.proantic.com/en/display.php?mode=obj&id=701722
Great, mystery solved, right? Not so fast! This listing pairs the print with a design depicting Ichikawa Danjurō as Gorō Tokimune 五郎時宗, and calls the pair a diptych from an 1814.1 performance of "Futatsu chōchō yoso oi soga" 双蝶々化粧曽我 at the Morita-za. This information appears to come directly from Hankyu Culture Foundation, which catalogs an impression of only the Ichikawa Danjurō design:
www.hankyu-bunka.or.jp/archive/?app=shiryo&mode=detail&data_id=208368
Leaving aside the question of whether to call these two sheets together a "diptych" or not, my questions are: (1) do these two sheets belong, in fact, to the same performance as each other, and (2) is the 1814.1 date more likely than the 1822?
I see that Kabuki21 lists an 1814.1 performance of "Sh˘fudatsuki Kongen Kusazuri", with these two actors in the same roles, also at the Morita-za. So it seems that the Hankyu reference and the Kabuki21 reference must be to the same performance, but why the different names? Perhaps one name attaches to the particular scene/dance, and the other to the performance as a whole?
Any thoughts on any of the above much appreciated!
-A


---
---