Re: woodcut
---
[ Follow Ups ] [ Post Followup ] [ Ukiyo-e Q & A ]
---
Posted by Alec W. (174.105.163.103) on April 22, 2021 at 05:11:06:
In Reply to: woodcut posted by nikita on April 19, 2021 at 22:55:03: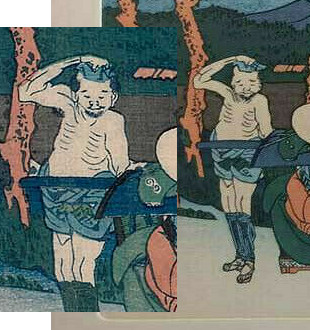 https://data.ukiyo-e.org/uploads/images/f6ff02cd20f3090181e58ca67cd02dc1.jpg
It's hard to say anything definitive just from one picture, but I will observe that in every museum impression of this design I have seen, the leftmost figure has a bulging bicep, but in your impression he is a scrawnier figure. And in general the keyblock lines look a little different to me. I think it's a recut.
-A
(Inset image from MFA Boston 21.5380)


---
---