Re: Woodcut
---
[ Follow Ups ] [ Post Followup ] [ Ukiyo-e Q & A ]
---
Posted by Alec W. (174.105.163.103) on April 29, 2021 at 02:22:19:
In Reply to: Woodcut posted by Nikita on April 28, 2021 at 20:52:39: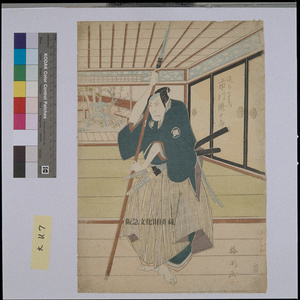 https://data.ukiyo-e.org/uploads/scaled/614278d13fa955058701e01784b75ecd.jpg
The artist is Toyokawa Umekuni 豊川梅国, an Osaka-based print designer active c. 1816-1826. Depicted are the actors Ichikawa Takijūrō 市川瀧十郎, right, and Nakamura Tsurusuke 中村鶴助, left (here written 中村靏助).
There is an impression of the right sheet catalogued by Hankyu Bunka:
http://www.hankyu-bunka.or.jp/archive/?app=shiryo&mode=detail&data_id=202176
They identify the design as accompanying an 1824 performance of "Nagara chōja u g u i s u z u k a" 長柄長者黄鳥墳 (spaces added to bypass spam filter), and the publisher as Honya Seishichi 本屋清七.
One puzzling detail is that the seal on the left sheet appears to be one catalogued by Marks as belonging to an unidentified Osaka publisher (dubbed "Kichi" 吉, based on the seal) active c. 1823-1833. I'm not sure why multiple publishers would be involved in the publication of a single diptych design, but that's what it looks like to me.
-A


---
---