Re: unknown print on silk
---
[ Follow Ups ] [ Post Followup ] [ Ukiyo-e Q & A ]
---
Posted by Alec W. (174.105.163.103) on May 07, 2021 at 23:50:18:
In Reply to: unknown print on silk posted by J Alexander on May 07, 2021 at 18:52:44: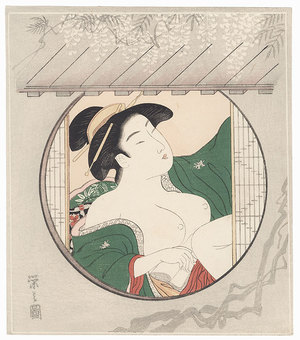 https://data.ukiyo-e.org/uploads/scaled/7c2dab13753fd290b198b5a3e61c0611.jpg
The artist is Chōbunsai Eishi, here signing "Eishi zu" 栄之圖.
These sorts of "pillow prints" are hard to track down, in my experience. My understanding is that they are generally "tastefully cropped" adaptations from rather more explicit original designs.
Fuji arts listed a slightly different adaptation of the same design recently -- here is theirs:
https://www.fujiarts.com/cgi-bin/item.pl?item=924472
-A


---
---