Re: sumo wrestlers
---
[ Follow Ups ] [ Post Followup ] [ Ukiyo-e Q & A ]
---
Posted by Alec W. (174.105.163.103) on May 26, 2021 at 03:52:58:
In Reply to: sumo wrestlers posted by Frederik on May 25, 2021 at 23:51:28: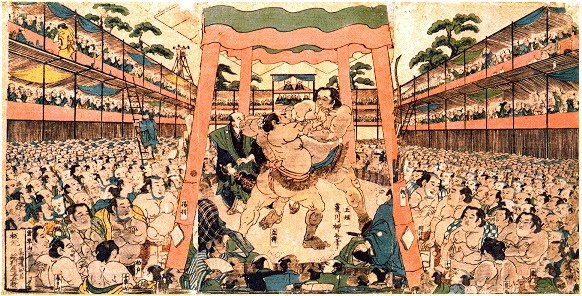 https://data.ukiyo-e.org/uploads/images/6a135fcdb42ec052dc7f500da250aa8b.jpg
Here's a small image of the full triptych, with an attribution to Hishikawa Ryūkoku 菱川柳谷:
https://www.pinterest.jp/pin/491103534351854998/
The image is too small for me to be totally sure, but I am inclined to say that the signature looks like it could well belong to Ryūkoku.
This image was discussed on the (now-defunct) sumo-nishikie.net site. Here is a link to the artist index for that site in the Internet Way-back Machine:
https://web.archive.org/web/20080211000257/http://www.sumo-nishikie.net/painter.php?mode=detail&pid=013
Click through to the image discussion... the larger version of the image doesn't load, but there is a description, which dates the event to spring of 1816.
-A


---
---