Re: ID of Kunisada print depicting Arash
---
[ Follow Ups ] [ Post Followup ] [ Ukiyo-e Q & A ]
---
Posted by Horst Graebner (88.68.18.254) on June 12, 2021 at 19:07:07:
In Reply to: ID of Kunisada print depicting Arashi Ka posted by Laurie Barnes on June 11, 2021 at 23:41:28: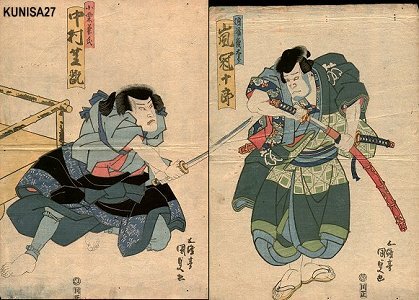 https://data.ukiyo-e.org/uploads/images/a26b6d701ffc76b5f0fc388a020aabba.jpg
I can't read the role name of Kanjūrō, but I know the left matching print. There is Nakamura Shikan II as Oguri Kaneuji (小栗兼氏). Shikan performed this role only in the play "Kumano reigen kuru makaidō", performed at the Nakamura theatre in 9/1830. The publisher is Kawaguchiya Shōzō.


---
---