Re: Help identifying the piece?
---
[ Follow Ups ] [ Post Followup ] [ Ukiyo-e Q & A ]
---
Posted by Alec W. (174.105.163.103) on June 14, 2021 at 04:46:51:
In Reply to: Help identifying the piece? posted by DavidK on June 14, 2021 at 00:38:19: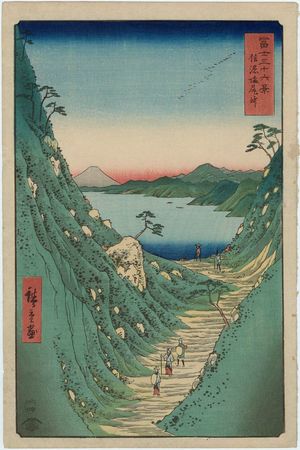 https://data.ukiyo-e.org/mfa/scaled/sc163462.jpg
This seems to be an adaptation of a design from Hiroshige's 1858 vertical ōban "Fuji sanjūrokkei" 富士三十六景 ("Thirty-Six Views of Mount Fuji"). This design is "Shinano Shiojiri tōge" 信濃塩尻峠 ("Shiojiri Pass in Shinano Province"), but reimagined as a night scene.
For more on the original series:
https://www.hiroshige.org.uk/36_Views_Mount_Fuji/36_Views_Mount_Fuji.htm#Fuji1858
And this design:
https://collections.mfa.org/objects/333039
I'm not sure where this version comes from -- it's clearly from a recarved keyblock, but I don't have any other information.
-A


---
---