Re: Tossing Earthenware Dishes at Asuka
---
[ Follow Ups ] [ Post Followup ] [ Ukiyo-e Q & A ]
---
Posted by Alec W. (174.105.163.103) on June 29, 2021 at 04:21:44:
In Reply to: Tossing Earthenware Dishes at Asuka Hill posted by Joanna Brown on June 28, 2021 at 16:21:54: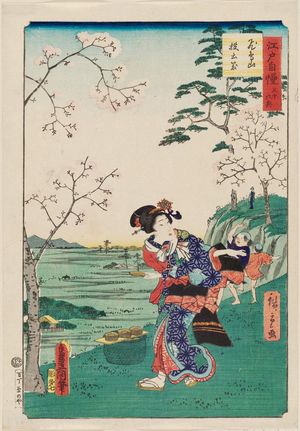 https://data.ukiyo-e.org/mfa/scaled/sc212878.jpg
I'm thinking this must be a Meiji reissue of a design from the 1864 Hiroshige II / Kunisada collaborative series "Edo jiman sanjū rokkei" (or "Edo jiman sanjūrokkyō") 江戸自慢 三十六興. Here's an impression of the design in the collection of MFA Boston:
https://collections.mfa.org/objects/190621/
The original publisher of the series was Hiranoya Shinzō 平野屋新蔵.
The publisher address in the colophon of your image appears to be consistent with one given in Marks for Yorozuya Magobei during 1876, 1885 and 1887. So presumably the old blocks were sold by one publisher to another, and the later publisher plugged the keyblock to add information required by the newer regulations.
But as Horst says, a full, sharp image would help sort matters out!
-A


---
---