Which Cat Witch?
---
[ Follow Ups ] [ Post Followup ] [ Ukiyo-e Q & A ]
---
Posted by Judy Hahn (71.126.115.13) on August 02, 2021 at 00:05:08: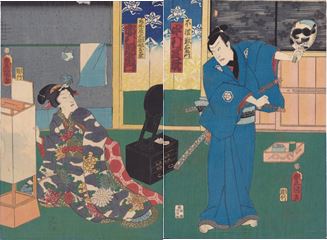 https://data.ukiyo-e.org/uploads/images/501e17c8c8d4726f4178cf6eefde4b08.jpg
This is a print of a Cat Witch being exposed, both by the mirror and by her shadow in the Andon, drawn by Kunisada.
Dealers seem to assume any Cat Witch is the Cat Witch of Okabe, but so far almost most turn out to be of some other location, primarily Okizawa and Fujiwara (in the Okizawa area).
This print has no title of any kind, only cartouches with the actors and roles. Iíve posted closeups of these cartouches in the followup. I have a fair amount of data on actors and roles in cat witch prints, so that if someone could decipher these cartouches, I might be able to match it to which of the witches it is.
So far I have prints of Cat Witches of Arima / Fujiwara / Okabe / Okazaki / Saga or Nabashima / Shirasuka // In Hakkenden // Or the Chinese Princess who turns into a cat witch. Several show the cat witch shadow in an Andon, but none show her identity being revealed in a mirror.

This post also includes what I believe is the publisher. That identity would also be appreciated.



---
---