Hakkenden Dog or Cat?
---
[ Follow Ups ] [ Post Followup ] [ Ukiyo-e Q & A ]
---
Posted by Judy Hahn (71.126.112.248) on August 11, 2021 at 00:40:25: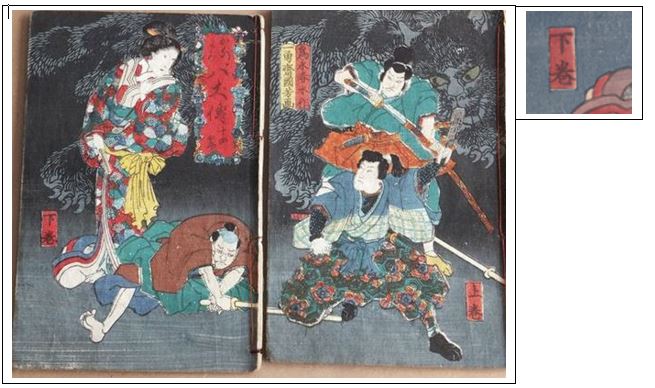 https://data.ukiyo-e.org/uploads/images/3c3d3b260ec489b82bcf02e2a2a9d46f.jpg
These are the covers of two volumes of the Kuniyoshi illustrated Hakkenden novels, volume VI. Is that monster a cat or the hakkenden dog? I know there is a monster cat in the story, but I thought it was nearer the end. Is it possibly a spotted dog? Also, the small cut next to the picture. I know the upper character indicates it is the first part of the volume, but what does the character below mean? Thanks!


---
---