Re: Hiroshige II or?
---
[ Follow Ups ] [ Post Followup ] [ Ukiyo-e Q & A ]
---
Posted by Alec W. (24.123.224.9) on August 12, 2021 at 03:42:06:
In Reply to: Hiroshige II or? posted by Frederik on August 11, 2021 at 23:13:56: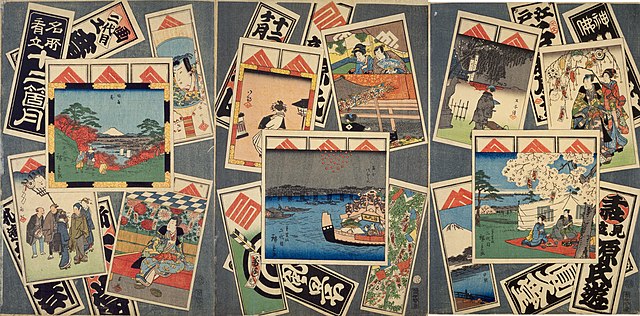 https://data.ukiyo-e.org/uploads/images/f11ded1c0d09eb4c30fc0a8356135706.jpg
Yes, it's by Hiroshige II, here signing "nidaime Hiroshige ga" 二代目 広重 画.
The publisher seal belongs to Iseya Kanekichi 伊勢屋兼吉, and the censor/date seal is for 1859.1.
The only discussion I have found on this is on this Japanese-language page:
https://www.kabuki-za.com/syoku/2/no97.html
I don't read Japanese, but I gather there are three designs, each illustrating four months of the year. Your design covers the last four months.
The title seems to be "Meisho mitate jūnikagetsu" 名所看立十二箇月 -- note the non-standard spelling of "mitate" (usually 見立).
The National Diet Library has all three designs:
https://dl.ndl.go.jp/info:ndljp/pid/1312619
Also see this image of the three designs together:
https://commons.wikimedia.org/wiki/File:NDL-DC_1312619-Utagawa_Hiroshige_II-%E5%90%8D%E6%89%80%E7%9C%8B%E7%AB%8B%E5%8D%81%E4%BA%8C%E7%AE%87%E6%9C%88-%E5%AE%89%E6%94%BF6-cmb.jpg
-A



---
---