Re: unknown artist and period
---
[ Follow Ups ] [ Post Followup ] [ Ukiyo-e Q & A ]
---
Posted by Judy Hahn (71.126.116.86) on September 21, 2021 at 00:03:41:
In Reply to: unknown artist and period posted by Francis on September 20, 2021 at 09:39:44: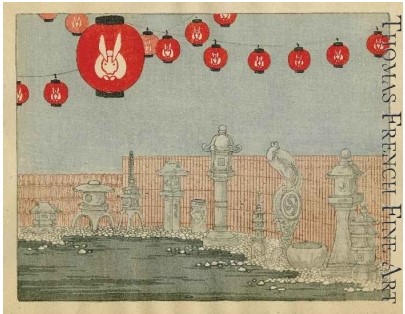 https://data.ukiyo-e.org/uploads/images/e2eb529ff267fa845440f0c370f6ba97.jpg
I also have a copy of these 4 tanzaku format prints on a single sheet, and this is all I have been able to find out about them:
Birds/Moons/Snow/Waves" - Poem Slips - with space for personal greeting so can cut apart and send out for New Year's, etc.
Ukiyo-e Gallery dates them to: c1910-23
publisher: Daikoku-ya (Tokyo publisher, 1818-1923)
saying they would be pre-1923 earthquake (noting that: Daikoku-ya Publisher ceased business in 1923).
Thomas French Fine Art identifies the publisher as: Daikoku-ya (Matsuke) Heikichi (1818-1923) – also ending with the earthquake.
Andreas Marks, however, says that Daikoku-ya Heikichi, run by the Matsuke Heikichi family, existed until the death of Heikichi V in 1931. It is publisher 029 on page 103 of his Publishers book. This book does not have the dumbbell-shaped publishers mark used here.
Artelino reads the dumbbell-shaped seal as . "Matsuki Sen" (Selected by Matsuki)
In addition to the more common blue that we have, it was also published in a sepia / brown version.
Have not been able to figure out what the rabbit seal is – artist? publisher? carver? I have only seen it on this print that was offered in 2016 by Thomas French Fine Art, with the rabbit on the lanterns, with no apparent other publisher's mark. There is no rabbit shaped publisher's mark in Marks' book.



---
---