Re: Help with identification 1 of 3
---
[ Follow Ups ] [ Post Followup ] [ Ukiyo-e Q & A ]
---
Posted by Alec W. (2.25.206.145) on October 12, 2021 at 13:41:31:
In Reply to: Help with identification 1 of 3 posted by Brendan on October 12, 2021 at 05:03:17: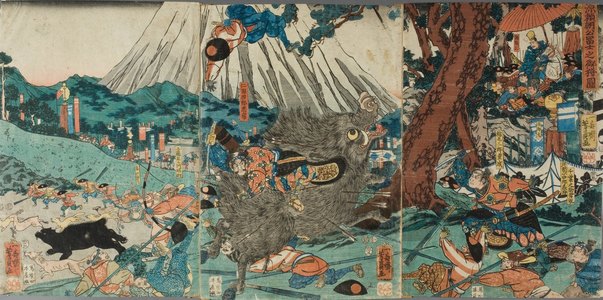 https://data.ukiyo-e.org/uploads/scaled/61d121f3dc50044624bde91dfad8cbac.jpg
This is the left sheet of an 1853 triptych design by Utagawa Yoshikazu 歌川芳員, here signing "Ichijusai Yoshikazu ga" 一寿斎芳員画. The design is entitled "Minamoto [no] Yoritomo kō Fuji no mikari [no] zu" 源頼朝公富士之御狩図 ("Minamoto Yoritomo's Hunt at Mount Fuji"). It was published by Kiya Sōjirō 木屋宗次郎.
Here's what the full design looks like:
https://collections.lacma.org/node/213441
Another impression of your sheet:
https://www.dh-jac.net/db/nishikie/arcUP7676/default/
This was a popular topic for a while -- Kuniyoshi did versions, as did seemingly nearly all his students. Yoshikazu even did another very similar design a few years later in 1859, this time with publisher Maruya Jinpachi 丸屋甚八:
https://collections.mfa.org/objects/462235
-A


---
---