Re: Identification
---
[ Follow Ups ] [ Post Followup ] [ Ukiyo-e Q & A ]
---
Posted by Alec W. (2.25.206.145) on October 14, 2021 at 15:52:54:
In Reply to: Identification posted by Phil on October 14, 2021 at 15:02:14: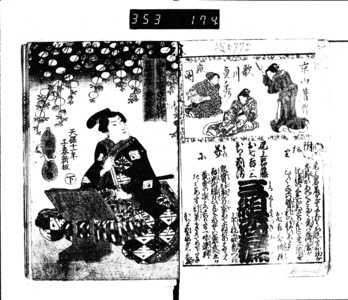 https://data.ukiyo-e.org/uploads/scaled/53773a51a8085195f1a27d57edbb9498.jpg
This is a cover from an 1836-40 serialized book entitled "Tori awase mitsugumi sakazuki" 取合三組盃, written by Santōan Kyōzan 山東庵京山.
The cover dates this to 1840, so this must be the last installment. It was illustrated by Kunisada (covers only, probably) and Sadahide (interior images).
Here's a scan:
https://www2.dhii.jp/nijl_opendata/searchlist.php?md=thumbs&bib=200004038
I don't have any information on the contents of the book itself.
-A


---
---