Re: Help with identifying print
---
[ Follow Ups ] [ Post Followup ] [ Ukiyo-e Q & A ]
---
Posted by Alec W. (2.25.206.129) on October 20, 2021 at 11:21:35:
In Reply to: Help with identifying print posted by Otavio on October 20, 2021 at 01:51:42: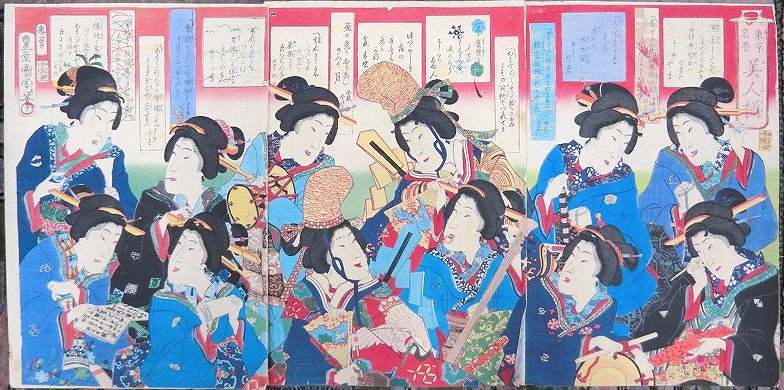 https://data.ukiyo-e.org/uploads/images/a418dfec94c765f89c97dc38fb5ff6c1.jpg
It's the right sheet of a triptych design by Toyohara Kunichika, entitled 東京名誉 美人揃 -- I think this is read "Tōkyō meiyo bijin-soroi", and perhaps translatable as "Assorted Honorable Women of Tokyo".
The only image of the full triptych I can find is from an online auction listing:
https://page.auctions.yahoo.co.jp/jp/auction/s790493400
Also, Österreichisches Museum für Angewandte Kunst has an impression of the left sheet:
https://sammlung.mak.at/en/collection_online?id=collect-196570
The publisher was Yorozuya Magobei 万屋孫兵衛.
I cannot find much of a clue as to what the publication date might have been; according to Marks the publisher seal was in use from 1865 to 1883, but that's all I know for sure.
-A


---
---